Come Holi, the Hindu festival of colours, and many people confine themselves, even lock themselves up to run away from the scourge of synthetic colours. Most holi colours available in the market contain oxidized metals or industrial dyes mixed with engine oil, which are dangerous for the skin. The black colour, for instance, is made of lead oxide, green from copper sulphate, silver from aluminium bromide and red from mercury sulphite. These chemicals can cause allergy, temporary blindness, renal failure, skin cancer and even paralysis. It can even prove fatal. The dangerous side-effects of holi colours can ruin the spirit of the festival.
But, now with herbal colours there is hope that holi will be played in a healthy manner. These eco-friendly powders and pastes are natural extracts from flowers, vegetables and minerals. Colours can be made from petals of rose, marigold, hibiscus and bougainvillea, sandalwood, henna, tesu, turmeric, multani mitti, spinach and indigo, to name a few.
Know How to Make Herbal Holi Colours

Stock your kitchen with beetroot, henna and flowers to make chemical free Holi colors.
Here are some tips to make herbal colors that you can play with during Holi:
Orange: Soak henna leaves in water overnight and utilize the water to play Holi in the morning.
Magenta: Boil a couple bits of beetroot in some water to make dull red shaded water.
Yellow: You can soak red flowers in water to get Holi water having a yellow-ish tint.
Green: If you wish to play with green hues, blend spinach with water.
Blue: To get this shading, you have to utilize the blueberry juice.
Dry colours on mind? Take rice flour, include proportionate food colour and blend it with two teaspoons of water to make a thick glue. Abandon it to dry and after that mix it in a mixie to utilize it as a powder shading.
Festive Inspiration – Makeup Tips For Holi Party

Since festivals and wedding season is around the corner, it gets difficult to decide on a look for a particular function. Guests attending the parties also want to look best for the functions. The fashion now is to keep the things minimalist, but that does not mean that you cannot try bold things. But as we say it every time, try to keep one bold thing in your look which grabs attention rather than mixing up things, it can be a makeup or an accessory. To read more, CLICK HERE..

Rangoli is an integral part of Indian culture and is especially made during festivals in most of the houses. Homes are decorated with different designs of Rangoli and is done at auspicious places of the house like entrance, pooja room etc. Ladies in south India decorate the entrance of their houses everyday with these patterns, as doing so is believed to bring in good luck and prosperity to home. Though market bought colors can be used for making them, but use of different and colorful fresh flowers for making Rangoli is the best thing you can use. It is environment friendly looks pleasing to the eyes and its fragrance makes the surroundings peaceful. To read more, CLICK HERE..
Play With Lucky Colours On This Holi

Holi is a festival of colours. In other words, people play with colours on the eve of Holi festival. Dr Madhu Kotya, Tarot reader and spiritual healer has some tips about colours. According to him, there are some lucky and unlucky colours for people based on their zodiac signs. Those who believe in astrology can follow his tips.
People with Aries should avoid using black. Red, copper and yellow golden are their friendly colours to bring out their energy.
Holi pink boosts the strength of Taurus people.
Yellow increases the energy levels of Geminites. But, they should discard red and black colours. Click here to read more..
Fables Behind The Festival Of Colours

It is believed that the name Holi is derived from Holika. The story symbolizes the victory of good over evil. Hence, many people light huge bonfires on this day by shouting 'Holi-hai! Holi-hai!'
Burning Holika on the day of Holi is mainly seen in Gujarat and Orissa. They also offer pulses and stalks from the harvest to God of fire, Agni. To read more, CLICK HERE..
The Most Beautiful Colourful Places In India

Vrindavan or Mathura is one of the most beautiful and colourful place to enjoy Holi.

Chonga village is one of the popular places in India for making organic Holi colours.
Spin the Color Wheel – Wanna Know your Fortune?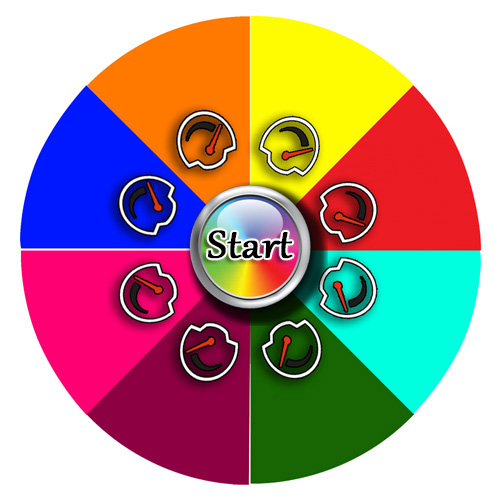 Spin the wheel and know your fortune; on which a lucky color arrives. To know the best color for you, CLICK HERE..
.
.
Article Reference & Images: www.Werindia.com, Google, News18, Indiaparenting