How to Access Region-Restricted Contents Using iTop-VPN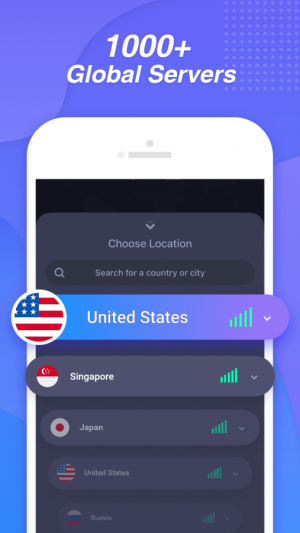 The internet is a place that connects not only the whole world, but also provides one of the largest sources of entertainment, where people can search for content based on their interests.
But due to some copyright and licensing problems and government censorship, access to certain content, such as Netflix, Pandora, Hulu, HBO, Spotify, Steam, and others, is limited to some users based on geographic location.
This means that if you try to access Netflix USA from another location, your request from content providers will be blocked. But thanks to a little thing called VPN, it has made it possible to bypass these barriers and easily access region-restricted content from anywhere in the world.
How VPN helps you access restricted content region
A VPN works in a way that replaces your original IP address with a temporary country-specific one provided by the VPN service and allows you to anonymously appear to content providers.
But the problem here is that the Internet is full of many VPNs that help you access region-limited content but are not all the same.
In this post, we'll show you how to unblock any sort of material with just one click using iTop VPN, one of the best free VPN for Windows on the market for bypassing geoblocking.
How to access region- restricted contents using iTop VPN
While many big VPN names are currently leading the market, iTop VPN outperforms them all when it comes to providing the most features for free. iTop is a newly launched VPN, attracting market attention with its amazing features that it offers for free.
The iTop VPN allows you to view all of your favorite online material anonymously, no matter where you are in the globe. In addition to ultimate security and protection, this VPN allows you to avoid geo-geographical restrictions with just a mouse click.
If you want to protect your identity, unblock content and stay online safe, iTop VPN free is a complete solution for all types of users. Another amazing aspect of this VPN is that they offer a no-log policy, which means that your information will never be sold or shared with a third party.
In addition, it is available for all devices, including Android, iOS and Windows, and helps enjoy better speed, worldwide server coverage and unlimited bandwidth with three connection modes.
Because iTop VPN is extremely simple to use, you only need to take three small steps to connect to a private server to protect your privacy and gain unlimited access to region restricted contents.
Step 1:
To go to the official website of iTop VPN and download the VPN for Windows free of charge. If you want to break all the restrictions, you can also buy the VPN from here.
Step 2:
Now after downloading and installing VPN for windows on your device, just double click on its desktop icon and launch it. On your screen the following interface will be open.
Step 3:
There are 16 server options to choose from if you are on a free plan here. You can choose any of them and now you are completely anonymous and freely access all types of content.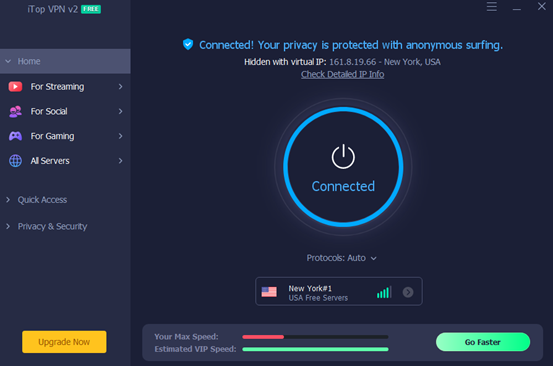 But in order to avoid restrictions, you can buy it very cheap and then access world-wide server coverage with 1800+ servers in more than 100+ locations and enjoy any type of content.