A contest #CelebrateOnlineDiwali for the festival of Diwali was held by WeRIndia – Leading India News Source. Exuberant response was shown by all the participants. Around 120 attractive entries (content/images) were received. Out of those creative entries, 2 entries have been shortlisted.
Congratulations to the winners of #CelebrateOnlineDiwali Contest!
Here are the winners:
1. Rameshwari Bansod
2. Shilpi Jain
#Diwali2016 #CelebrateOnlineDiwali #DiwaliContestWinners
Rameshwari Bansod: 1st Winner
Entry: Caption :- ♥ ❤ "My No Fire Crackers Eco-Friendly Go- Green Diwali" ♥ ❤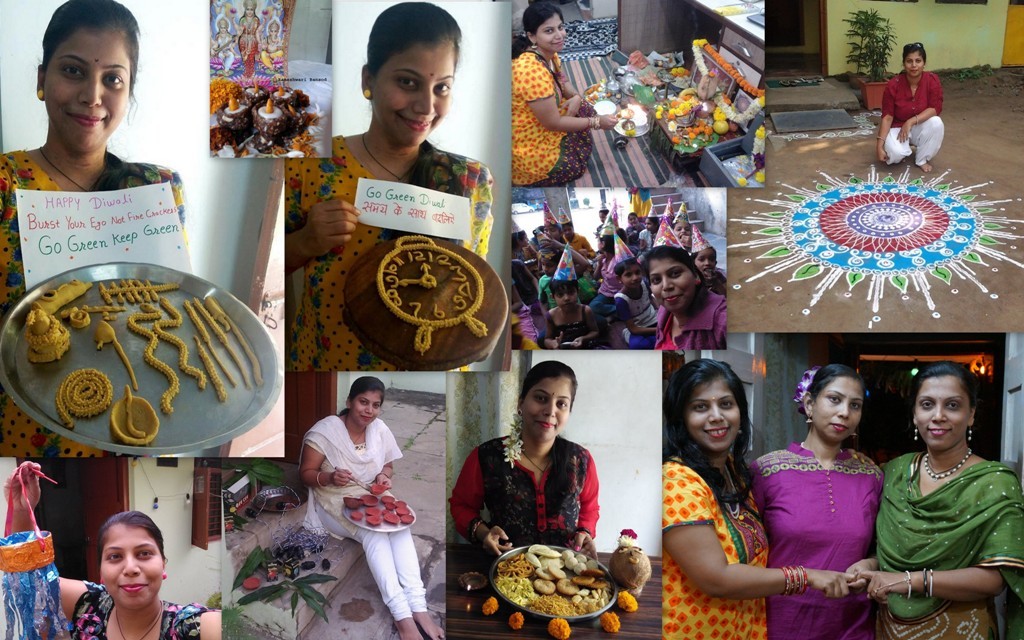 Diwali or Deepawali is the festival of lights. The words "Deepawali" means a row of lights. Diwali is the most beautiful and joyful of all hindu festivals. People start cleaning, white-washing and decorating their houses. During the festival every house has its row of oil lamps lighted. So I also coloured my diva for new touch with the colour. And also made eco-friendly mango leaves festoon (it's called toran) to my house. I hanged on my front door wall electric Indian made lighting also.♥ This Diwali I'm taking Pledge "Not to use Chinese Crackers & Electric lighting". ♥ Right now, I switched on my edible fire crackers which are yummy for tummy and give us lots of amusement kids and all. I made innovative edible crackers Anar, Jamin Chakra, Fulzadi, Tikali, Roll, Sutali bomb, lad, Rocket etc. There will be no pollution to all. This Diwali is special to me because we are already planned to make all cleaning of home, making diwali rangoli, decoration and Sweets and Namkeen without any help of Panditjee and Kamwali bai as we are office going. We are 3 sisters. And as per our plan we make Besan Laddo, Chiwda, Chakli, Murukku , Anarasa, Shev, Namkeen, Karanji, Sabji, kadhi, Puranpoli, Bhajiye & Special Khajur & Ground nut Diya for Prasad etc. While making Diwali Dishes we learn so many things & enjoy lots of fun happiness, joy, affection after long time. 🙂 "Sukhakarta Dukaharta Varta Vighnachi Nurvi Purvi Prem Krupa Jayachi"
I think Pollution is our vighna so I follow following Things/ Ideas/ Tips to protect the environment during the diwali festival. ♥
1. Buy eco-friendly idols of Goddess Mahalaxmi and Rangoli.
2. Don't use chemical colour in edible dishes and gave 1st preference to home made food items to gain Health is Wealth. Home made items pave to my creativity.
3. Sharing my happiness with Deaf and Dumb World.
4. Daily I draw flower rangoli with made up of mango leaves and flower.
5. I playing "Mahalaxmi Arati" on dvd player as well as also flaming essence stick and dhoop made divine atmosphere.
6. Don't use fire cracker which pollute the atmosphere and source of sound pollution.
7. Encourage your neighbour, friends and relatives to make to use eco-friendly products. And also encourage to make a pit and bury all Nirmalaya (old puja flowers) in a pit. So it will disintegrate into the soil again and prevent pollution. Everyone should think about go Eco-friendly otherwise we will face destruction of our own mankind. ♥
"Samay ke Sath badliye, Happy Diwali Boliye" ♥ ♥  "Burst Your Ego Not Fire Crackers" ♥ This is a need of hours so take move accordingly to the wind. So Bolo "Mahalaxmi ki Jai". Happy Diwali to All.
#OnlineDiwaliCelebration #DigitalPataka #WeRIndia
Shilpi Jain: 2nd Winner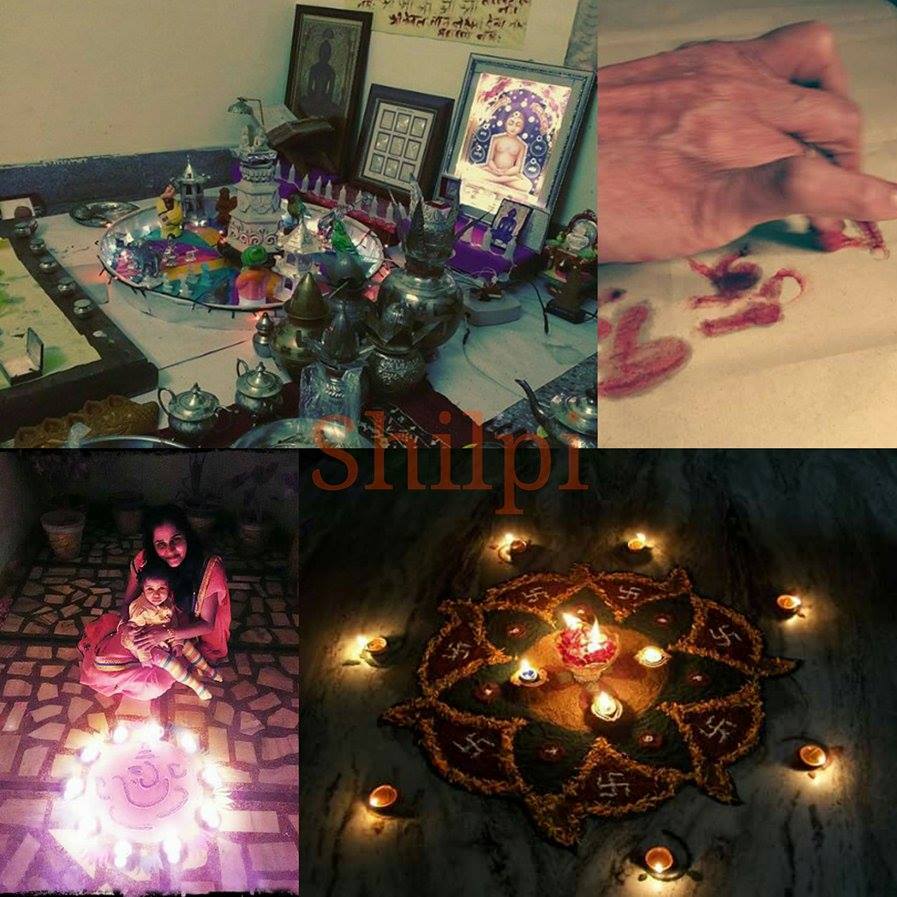 Entry: The glittering lights, boxes of sweets, freshly painted homes, exchange of gifts, make a colorful rangoli ,family reunions…all these mark Diwali, one of the biggest festivals in India.This one is coming straight from my 10-year-old son. he is very clear that he will not burn any crackers, as they make so much noise and his eyes all watery. Come to think of it, Diwali is the festival of lights..we enjoyed is very much without crackers..we light our home with lot of diya n lights.. made a colorful rangoli n done puja..we love eco frindly diwali….
Heartiest congratulations to both the winners!!
HAPPY DIWALI !!!